Filed under: Events
We are excited to be having Preston Bailey host the Celebrate Gala Night.. Tickets will be on sale soon. Stay tuned as we announce it in a few days (twitter – @celebrateExpo & instagram – @celebrate_expo)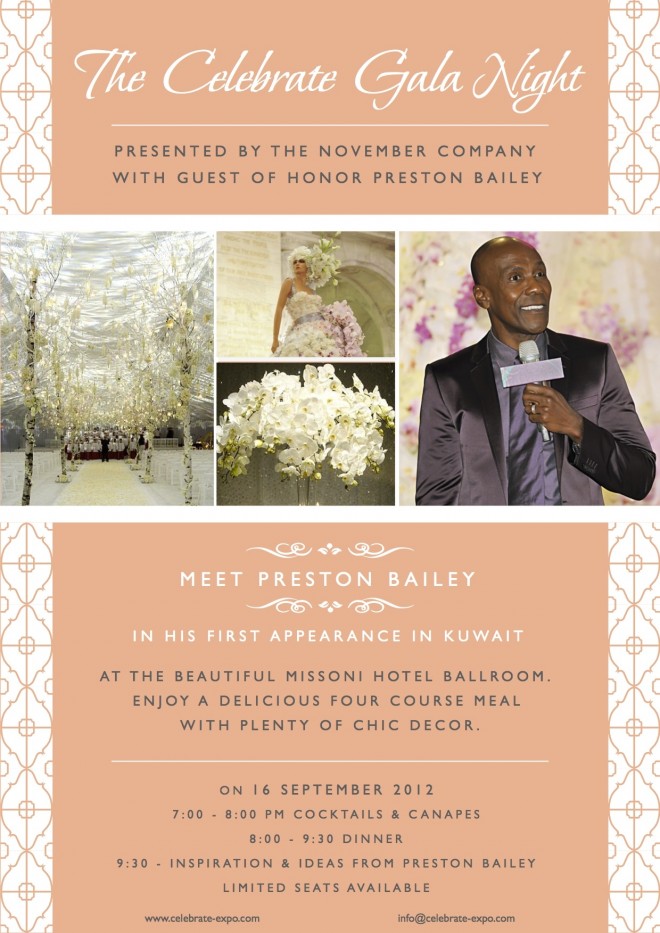 More inspiration from November...
The Celebrate Expo will be hosting 3 exclusive seminars during the exhibition days. Signing up is on a first come first serve basis, please contact info@celebrate-expo.com for more information.
Seminars are:
Floral Arranging & Table Setting
Menu planning, decoration, and event coordinating of small dinners and parties
Date: September 18th at 5:30 pm
Fashion & Beauty
Learn tips and tricks from the pros. Make up, photography, and fashion advice
Date: September 18th at 8:15 pm
Marriage & Engagement
Advice from renouned marriage therapists on how to cope with stress and ebrace the change.
Date: September 19th at 7:15 pm
Each seminar runs for 90 minutes with refreshments served at the end. Tickets are KD35 per seminar.
More inspiration from November...
We would love for our Novemberites to join us in Sukkar Ramadhan starting TODAY July 12 through July 14 in 360 Mall!
You'd be interested to know that we will be showcasing our latest cake designs, and also some new desserts added to the menu!
Psst.. We'll let you in on a little something too.. ! Some items at our booth have a special per order discount- more reasons to head on to 360 instead of our usual store this weekend!
Enjoy some pictures of our booth we recently posted on Instagram (@novembertweets) ! xx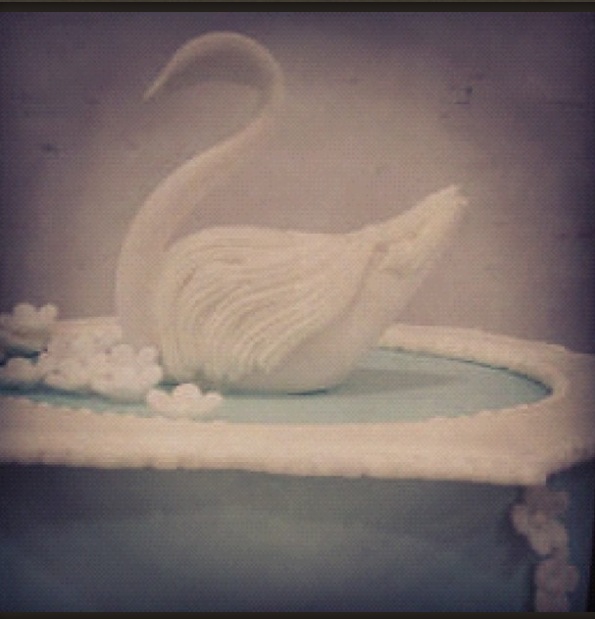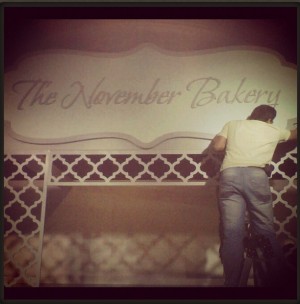 More inspiration from November...
Learn which bouquets work with your wedding dress at the seminars by Celebrate Expo!
Email us for more information info@celebrate-expo.com

More inspiration from November...
The Celebrate Event will be held on September 17, 18, and 19. We are so proud here at November to be working on such a new and unique concept. The best of the best vendors will be gathered in one place to inspire all of your celebratory events from all aspects whether it may be event planning, florals, clothing designers, jewelers, and much much more! All this, in a Novemberesque setting where we can't wait to transport you with our much anticipated event's decor. With wedding season dawning upon us following Ramadhan, be sure to come to the Celebrate Event before planning your upcoming parties and/or weddings. Some new up and coming vendors will have the chance to debut at this event and it is a great chance for you to meet them and discuss whatever celebrations you have coming up!
To get the latest updates on the Celebrate Event, be sure to follow us on twitter @CelebrateExpo where you can ask us any questions you may have.
In addition to an extravagant event, we are also proud to have Preston Bailey himself opening our event! Many event planner fanatics may know Preston Bailey for his well renowned work from planning the weddings of celebrities and the elite, to some of the best flower arrangements and set ups. In fact, Mr. Preston Bailey has inspired the November Company from the very beginning during our early days.
Not only will we gather our handpicked vendors for you to meet and greet, but we will be hosting some seminars where you can join and learn more about floral arrangements, fashion & beauty, and marriage tips! Stay tuned and we will be posting more about the seminars both here and on our twitter page! Please email us to sign up or for more information info@celebrate-expo.com.
Mark your calendars – September 17-18-19; we hope you are excited as we are! xx
More inspiration from November...
Preston Bailey is such an inspiration for us here at The November Company. He is well known for his exquisite work, and elite clientele. Not only has he done weddings, but many other events. His flower installations are top notch and he puts together breath taking settings.
His books are great eye candy, too!
What is your favorite Preston Bailey event?
Picture source: his website
More inspiration from November...